The findings of Search Institute's Don't Forget the Families Study make the case for re-examining assumptions about family engagement, the family's roles in young people's lives, and the fundamental ways schools, organizations, and systems should relate to parenting adults.
The implications of this study require six shifts in how schools, youth programs, and coalitions think about family engagement:
Shift 1: Start with listening to families
Family engagement efforts often begin with policymakers, researchers, and professionals determining what families need to do. Then messages are developed that will generate "buy-in," support, and participation. They treat parents as consumers, who must be "sold" an agenda in order to be successful in achieving their goals.
But when we take time to authentically listen to and build an understanding of parenting adults and children through interviews, focus groups, surveys, and other methods, we are much more likely to abandon stereotypes or assumptions and to partner with them in ways that are more meaningful and more effective.
Shift 2: Emphasize building relationships with families
Educators, social workers, and other professionals who successfully engage families—particularly those families who have been disconnected—often point to the need to build trust and relationships as a foundation for engagement. Or in simpler terms, "parents don't care what you know until they know that you care."
Although the Developmental Relationships Framework focuses on the relationships young people need in their lives, it also suggests new and more effective ways to build relationships between professionals and young people, parents, and other family members they serve. For example, looking at family engagement through the lens of the developmental relationships, an educator might ask "To what extent do we express care with the families in our schools, including listening?"
Shift 3: Challenge stereotypes and highlight strengths in families
As a society, we hold onto a number of myths or preconceptions about families:
We equate who is in the family with family strengths or deficits—even though research shows both strengths and challenges across all types of families. Our studies show that demographics account for very little of the difference in family relationships, and that they contribute little to whether children and youth are developing key character strengths. Families of all shapes and sizes can—and do—build developmental relationships.
We assume that families who don't show up don't care, when the evidence shows that the vast majority of parenting adults do care, even if some don't express it effectively. In addition, their greatest value in young people's development likely lies in what they do at home.
Because some families don't have much materially, we conclude they don't have much to contribute. So we set up systems in which they are viewed as passive recipients of our expertise or generosity. This approach misses the value they bring to community when they are valued as partners and contributors.
Our research shows that families have both strengths and challenges across the socioeconomic and cultural spectrum. Although some families struggle with addictions, mental illness, abuse, and other issues that require specialized supports, it is a mistake to label whole groups of parents as inadequate because of their backgrounds or where they live. Further studies have found that a consistent barrier for low-income parents seeking and receiving support was professionals who made them feel inadequate or like "bad parents."
We now have an opportunity to begin counteracting the negative stereotypes about the strengths of all types of families and their contributions to our communities and society.
Shift 4: Encourage parents to try new approaches to relationships
Developmental relationships form and grow through everyday interactions that occur over time. Sometimes the ways families spend time together and interact with each other cultivate developmental relationships. But all types of families can fall into patterns or habits that can be counterproductive—whether it's the ways they show (or don't show) affection, how they praise or encourage each other, or the ways they keep or share power in
family life.
Bringing families together to talk about what works for them and where they get stuck can serve as a starting point for creating a shared commitment to building developmental relationships within families and across the community.
Search Institute's parenting website, ParentFurther.com, offers
a wide range of activities that families can do together
to explore and enhance each of the essential actions and action steps in the Developmental Relationships Framework.
Shift 5: Emphasize parenting as primarily a relationship
At its core, parenting is a relationship rooted in mutual affection, attachment, and influence that occurs between parenting adult and child.
The most provocative finding in this study is the importance of sharing power within a developmental relationship. More than any other essential action, Share Power consistently predicted children's development of character strengths and other key measures of well-being. It also exemplifies the bidirectional nature of the parent-child relationship, reinforcing mutuality as a key part of its development. Because of that, steps to encourage sharing power might be a good place for parenting adults to experiment when building relationships with kids.
Shift 6: Broaden coalitions to include families
Many worthwhile efforts are underway in communities across the nation
to bring greater coherence and effectiveness to efforts
to help all children succeed. Most of these partnerships are focused on achieving goals such as school readiness, high school graduation, etc. And most of the people who are participating in the initiatives to achieve those objectives work in schools, out-of-school time providers, social service agencies, and other organizations that influence children's lives.
But in many communities, families are
the missing piece of the strategy. Engaging families will require a different approach from asking them to support schools in teaching reading and math, or helping to raise money for after-school programs. Family engagement is one of the goals of our new Keep Connected program, which strengthens family relationships.
The strategy of supporting parents in building developmental relationships within and beyond their families is a strategy that has untapped potential to help children succeed in school, and in life.
Click on the infographic below to see where your efforts stand: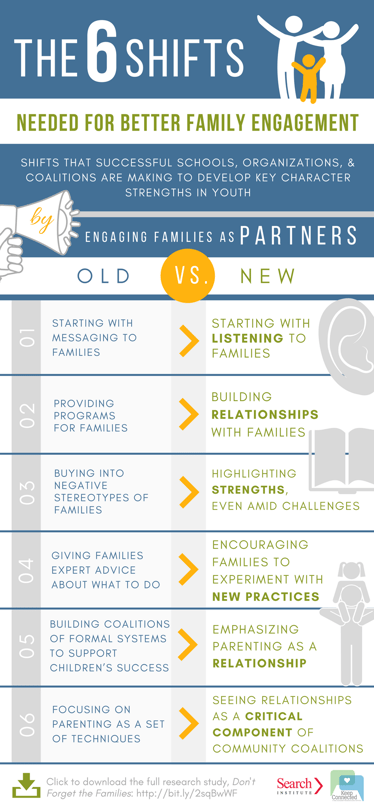 Click the image for a free download of the 6 Shifts to Better Family Engagement Infographic
Sources: Don't Forget the Families, Search Institute, 2015