This is part five of our 6-part series on family relationships. Click to read parts one and two, three and four. All of the blog posts in this series are focused on how families can use Search Institute's Developmental Relationship Framework–the key elements of strong relationships–as their kids transition to middle or high school.
As many parents of teens will tell you, power struggles are common with kids as they enter their middle school years.
All good relationships involve a give and take. Kids learn and grow when they have a voice in the family and are part of making decisions that affect them. How we share power—and how that changes as our kids grow up—prepares them to be responsible, contributing adults. But parents may have different expectations than young people have about when, where, and how to share power.
What is Sharing Power?
Sharing power is a common source of conflict in families. Many parents feel that when they share power, it means they give up power.
But sharing power doesn't mean they hand over control of the household to the kids. When we share power, we simply respond to the kids unspoken request: "Treat me with respect and give me a say."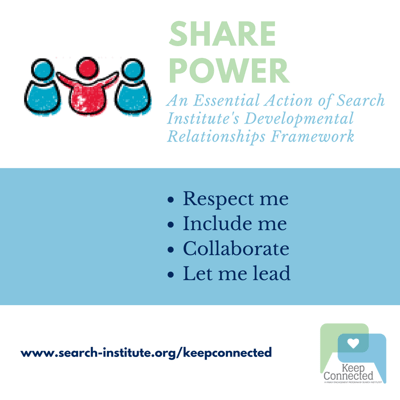 Why Sharing Power Is Important
When kids approach the teen years, the power struggle begins because they're growing up. This is when…
Their brains are changing and they're starting to think differently.
They're trying to figure out who they are.
They are shifting from mostly depending on others for everything toward having more responsibility and self-control.
Sharing power in families helps parenting adults develop deeper, more meaningful relationships with their kids, and learn to trust them.
Sharing power in families helps young people . . .
Become more confident, responsible, and motivated
Adjust to school transitions
Communicate, negotiate, and problem-solve
Avoid risky behaviors as they learn to make decisions
Be prepared to form relationships throughout life
Tips For Sharing Power
Search Institute has identified four everyday actions that allow adults to share power with kids:
Be respectful- Take me seriously and treat me fairly
Include me- Involve me in decisions that affect me
Collaborate- Work with me to solve problems and reach goals
Let me lead- Give me chances to make decisions and take the lead
Here are some other things that parents and kids can do to share power and make decisions together:
Parents Can…
Ask your child for their opinion or ideas about what to do
Ask your child for information that would help make a better decision
Give your child options to choose from; explain pros and cons
Suggest ideas and share information
Explain why you made your decision
Check for the child's understanding
Kids Can…
Ask your parent for advice or information
Express your opinions
Suggest ideas or share information
Identify barriers or problems that could come up from different choices
Tell your parent when you make a decision they're interested in
Ask questions about a decision your parent makes
Underneath all these changes, power struggles are signs that your relationship is changing. The good news is that the conflicts tend to even out or decline through high school and only about 5 to 15 percent of teenagers have high-conflict relationships with their parents.
It's all a normal part of growing up. In the long run, it's good–even if it's hard when parents are going through it.
SOURCES:
http://parentfurther.com/
Don't Forget the Families
Relationships First: Creating Connections the help Young People Thrive