NOTE FROM ERIC KALENZE, DIRECTOR OF EDUCATION SOLUTIONS:
This week's post is provided by guest blogger Jacob Mongan, Dean of Students at Pine River-Backus High School in Pine River, MN. Jacob works with a team of school leaders at PR-B who have been learning about and implementing REACH research and resources since the beginning of this school year.
By Jacob Mongan
When Dr. Kent Pekel finished his initial presentation of the REACH strategies for student motivation at our school, I remember an immediate sense of excitement. I mean, it wasn't like Search Institute had completely reinvented the wheel, but as I took in Dr. Pekel's presentation, it was clear that the REACH Framework was different. Built on considerable evidence and on strong statistical foundations, I knew it would offer outstanding tools for increasing students' motivation.
More specifically, that initial excitement was for what the REACH research and resources could do to assist our teachers in their relationship- and motivation-building opportunities with students. What I didn't immediately think about was what REACH could mean to me as a dean of students. Now, after having spent more than a year working with Search Institute's Dr. Pekel, Eric Kalenze, and our school's REACH team, I realize these strategies go well beyond the classroom.
Of course, I couldn't possibly mention all the tools I've gained in a single post. But I can definitely share that insights I've gained from my school's work with the REACH Framework have helped to grow my relationships with students.
While I've always known about the importance of relationship-building and tried to build relationships with all the students in our school, it's always been pretty much impossible in a high school of 400 students.
Fortunately for me, my school's teachers have done an amazing job of incorporating the REACH Anchor Activities and REACH Techniques into their classrooms. And as for creating ways that can help all staff connect more quickly and effectively with students, one teacher has entered information from REACH Activities into shared spreadsheets. This has allowed me and others some insight into some of our students' Sparks (from the REACH Framework's 'Heart' category), providing instant tips about how to connect with some kids we might not have otherwise.
As relationship-building goes, I've definitely learned that having information about a student's interests can be very powerful. In my position as Dean of Students, I often find myself in somewhat difficult situations with students. This–especially when several of these interactions begin in escalated moments–can make building positive connections difficult. That being said, our REACH work has already produced many moments in which I was able to connect with and redirect a student based on what I knew from a previous REACH Activity. In fact, some of my favorite moments this year have been when, having done a little REACH 'homework' on a particular student, I've brought up something they aren't aware I know about them. In those moments, watching their eyes light up, I'm confident those relationships are already moving to different levels.
I have offered just a glimpse of what the REACH research and resources have to offer for strengthening student motivation, specifically when it comes to building those crucial relationships.
Overall, it's been great to watch the effort our teachers have put into administering REACH Anchor Activities, sharing students' Sparks, and working shared terminology from the REACH Framework into their classroom practice. And I can tell other staffers agree, as it's begun to spread beyond our core REACH team: several staff who have not yet attended REACH workshops are regularly using REACH Techniques and the REACH-provided student information to better connect with and motivate their students.
In all, we appreciate the REACH Framework's research and statistical foundation, and staff interested in reaching further to advance student achievement are finding it useful.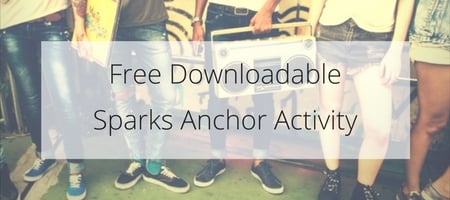 Click the image for a free download of a Sparks anchor activity