I'm a psychologist as well as a tennis coach, and have a new book out, Mental and Emotional Training for Tennis: Compete–Learn–Honor. It's about teaching "mental toughness," but by showing coaches how to build relationships with their players so players develop a deeper, more spiritual, more selfless, effective, and long-lasting mental "toughness."
Here's how we describe my coaching philosophy to parents and players at the start of the season. We have a very simple philosophy:
Grow as a person and as a tennis player, and you have had a successful season.
All of us enjoy winning more than losing, and we try to give our players every help to win. But we do not measure our season by wins and losses. We measure it by whether our kids have grown as people and as players. We try to help them do both.
The JV program, and my book, are organized around the motto I introduced several years ago for the Parkway South High JV tennis team:
Compete—Learn—Honor
Honor explicitly requires humility, and humility is necessary for one to Learn (as in, you won't learn much if you think you know it all, already).
And it is the learning that allows one to grow in all the skills and mind-sets needed to compete with joy and gratitude.
It might not be obvious, but developing honor and these mental, emotional, and spiritual habits is not something players do primarily alone—it is mostly an outgrowth of relationships.
They can study these "tips" by themselves, sure. And they should. But to be true values and habits that guide them, players have to act on them. And acting on them comes only in relation to others and caring about others—their family, teammates, coaches, opponents.
The firefighter, the police officer, the bystander who jumps in to save people from a burning car or from drowning are all putting their lives on the line. It's hardly the same thing when athletes give their all for their team. It's not life and death.
But there is one similarity among all those people, whether heroes or mere athletes: They have lost their "self" in that moment of bravery and courage, or in that moment of sacrifice and effort for the team. Their concern at that moment is with other people or values bigger than they are. The way to better mental "toughness," and the highest realization of your potential, is in relationship to others, in service to others, when you have lost your focus on your "self."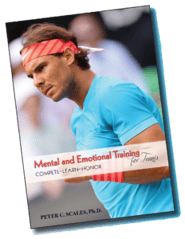 I wrote my book so coaches can use that understanding to help their players develop the mental, emotional, and spiritual strengths they need to deal with what tennis, and life, throw at them. Coaches can't do that without creating strong developmental relationships with their players, nor can players do it without strengthening their relationships with coaches, teammates, opponents, and others.
The mental and emotional strengthening strategies I teach and write about in the book, like humility, losing the self, loving the battle, welcoming challenge, striving for gracefulness and balance, and accepting mistakes, tend to relax players, make them more fluid and smooth, and encourage them to be better teammates who care about others.
Ultimately, it's not just about self and not just about tennis.
Here's what one of our seniors said in an Awards Banquet speech at the end of her last season:
"You are the best coaches, the nicest people, the most wonderful mentors and role models, and best leaders we could ever have hoped for. You embody what a coach should be. I have dreaded going to practices of other sports but never this one. You are always there to support us and always there to encourage us` no matter what. Even if we are losing by a lot you say to keep working. Tennis isn't just a sport, especially with you. It makes us better people. I could always talk to you about anything. We just show up after school and share whatever, and you always listen…tennis has changed my life for the better…it's like therapy in sport…Thank you so much for the years you have given us—we are better people because of you."
Every one of our student-athletes should have a coaching relationship that inspires them to feel this way!
That's how you know you have a program that helps young people grow not just as players but as people of good character who bring credit to themselves, their teams, schools, families, and the game! There is no better measure of success.
This blog is adapted from Peter's new book, Mental and Emotional Training for Tennis: Compete-Learn-Honor (2019), published by Coaches Choice. It is available at http://coacheschoice.com/mental-and-emotional-training-for-tennis/, and also at Amazon.