By Mackenzie Steinberg, Research and Development Communications VISTA at Search Institute
Through our Measuring What Matters project*, with support from the WEM Foundation, we are seeking to create valid and reliable measures of Search Institute's Developmental Relationships Framework and social emotional learning (SEL) assessment. This will give adults who work with young people actionable data to inform their practice.
As researchers, learners, and explorers of the youth development world, we at Search Institute are devoted to continuously bridging research and practice. With this project, we hope to expand the research-based tools available to the field so that youth workers, teachers, and other community members have the support they need to build and sustain strong, healthy developmental relationships with young people.
We began this project by looking to find out more about what people in the youth development and education fields really wanted to know about the young people they work with, by measuring developmental relationships and conducting SEL assessments. We had meaningful conversations about the importance of youth voice within a survey and ultimately landed on the idea of a youth self-report developmental relationships survey. We also knew we needed to understand what the field of youth workers want and need. The length, format, and content are all factors that should be considered from our end as well as the practitioner's.
Based on these inquiries and conversations, we formulated and sent out a questionnaire to youth workers and teachers around the country to see what facets of youth inputs and outcomes were most important to them. This market research, while not scientific research, is still valuable information for Search Institute to take into consideration when designing a new data collection tool.
With over 700 respondents**, most of whom were practitioners from schools or youth programs, the market research questionnaire provided us with interesting insights. Here are some of the highlights from the market research questionnaire:
When asked to choose which factors are most important for your organization to measure, the top responses were social and emotional skills, mental health and emotional well-being, adverse childhood experiences and trauma, risk behaviors, cultural responsiveness, and perceived safety. The lowest responses were organizational climate and civic engagement.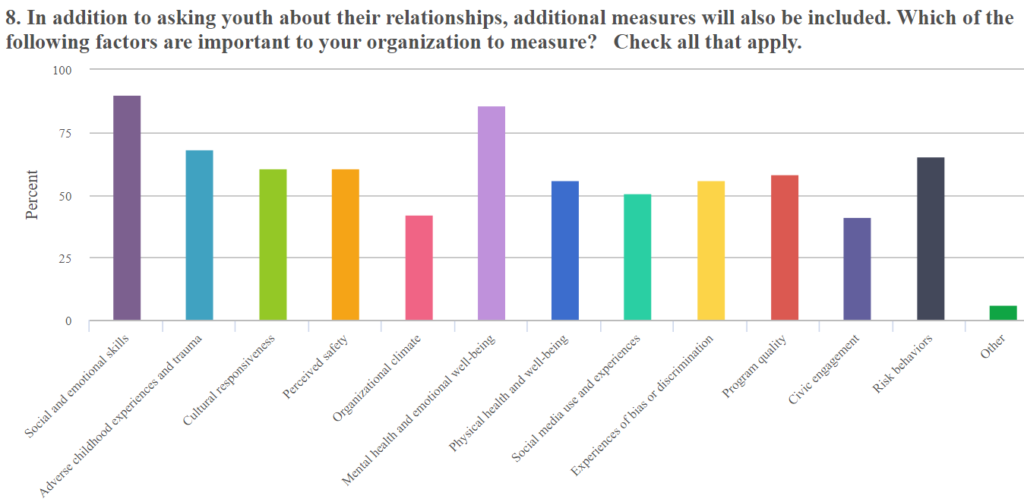 When asked to select up to five areas of social and emotional skills that are important for a developmental relationships survey to measure, the top answers were relationship skills and social competence, resilience, conflict resolution, growth mindset, responsible decision-making, problem-solving, communication skills, perseverance/grit, and self-management.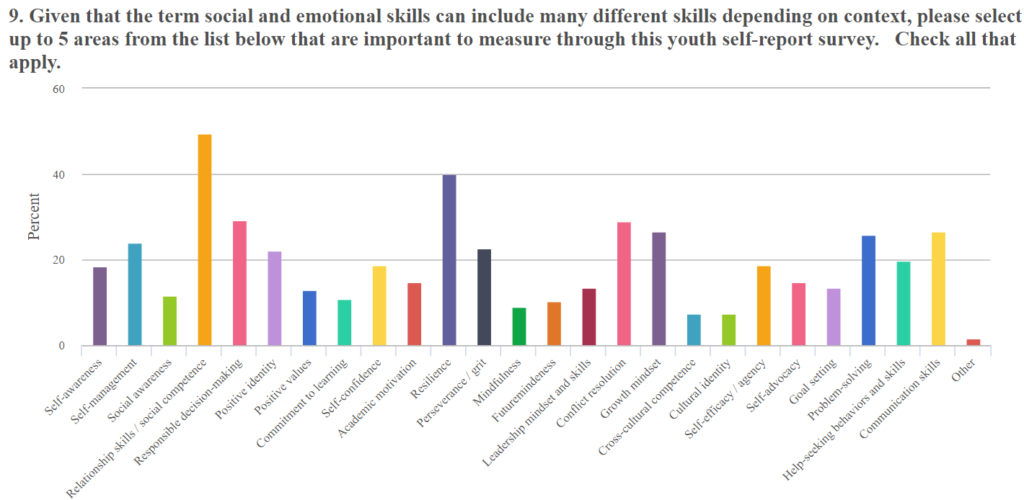 Many organizations want to know about young people's experiences within their program.
Outcomes should be customized for different programs.
Many organizations would like youth to have the option to write in qualitative statements to help report writing, fundraising, and storytelling.
Most practitioners would like a survey that takes 10 to 20 minutes to complete.
The most popular choices for how a developmental relationships survey instructions should be presented were video, powerpoint, and a brief user guide.
Most respondents plan to use the data provided from Search Institute's youth self-report survey to guide day-to-day programming for all staff, especially leaders within the organization or school.
Building on our ongoing scientific research on developmental relationships, SEL, equity, and survey design, we have used the insights from this market research to develop a new youth self-report survey. In our experience, self-report surveys for youth are a great way to obtain equitable data that can truly assess how a young person is feeling and experiencing the world around them.
This specific Developmental Relationships Survey underwent extensive pilot testing and will be available to all in the fall of 2020. Responses from people on the ground doing the real work with youth are very valuable to us as a research organization. We are excited to provide our friends in the youth development and education fields a meaningful survey that will enhance how we all work with young people.
To learn more about the upcoming Developmental Relationships Survey or to be notified when it's released, click here.
*Measuring What Matters is funded by the Whitney and Elizabeth MacMillan Foundation with the goal of creating a practical measurement instrument to provide usable and actionable data on young people's social and emotional learning (SEL) and the relationships that help develop these capabilities.
**Thank you to all who participated in the market research questionnaire that helped inform our survey design process.