By Eugene C. Roehlkepartain, Ph.D., Senior Scholar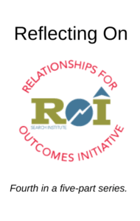 Q: What do Play-Doh, Bubble Wrap, Post-It Notes, and treadmills have in common?
A: They were all created for one purpose and were found to be very useful for something very different.*
Those four famous switch-ups are in a class of their own. However, they offer an analogy to a serendipity from on-the-ground efforts to become relationship-rich organizations: If you want adults to build developmental relationships with and among youth, you'll need to attend to the relationships among the adults.
That wasn't our plan when we launched the Relationships for Outcomes Initiatives (ROI) with five partners in 2018. (See box below.) Search Institute had spent several years creating and empirically testing the Developmental Relationships Framework as a resource to strengthen relationships with and among young people. And, unlike the examples above, it has proven to be highly valuable for that purpose. We were good to go . . . we thought.
Lauren Geraghty, a leader for one of our partners, Communities in Schools San Antonio, picks up the story:
"When we started, . . . we were really focused on what developmental relationships would do for our students . . . What we realized pretty quickly is that if you don't know how to model those elements—if you're not expressing those elements from adult to adult and the students aren't seeing you model that in your adult life, . . . how much are they really going to buy in to your relational framework?"
These new videos feature youth and adult leaders from the ROI partner organizations. Feel free to share them in your networks and on social media.

(For noncommercial use only with attribution and no alteration. Copyright © 2021 Search Institute.)
Experiments in Practice
And thus began practice-driven experiments we didn't build into the work plan. The video, Deeper Connections: Modeling Strong Relationships Among Staff Members, describes the value partners found in using the Developmental Relationships Framework consistently to build a sense of team among staff members. Here are some of the practical ways they brought that commitment to life.
Shared language—In the same way that shared language is important for consistent practice in working with youth, it also became an important tool for shaping relational interactions and expectations among staff. Once a partner had established a shared goal to reflect developmental relationships in staff interactions, they could begin articulating what they were doing—or not doing—together that was aligned or conflicted with the framework. That consistent language becomes an important part of establishing new norms.
Recruitment and hiring—Like many youth-serving organizations, Camp Fire Columbia in Portland, Oregon, faces the annual challenge of a seasonal workforce surge for summer programming. Because they believe having summer staff with strong relational skills is essential, they integrated questions and techniques into their interview process based on developmental relationships that they found to be helpful in identifying job candidates with the most relationship-building potential.
Employee coaching—Several partners, including Generation Citizen, integrated the five elements of the Developmental Relationships Framework into their one-on-one check-in meetings between supervisors and their employees, with a focus on coaching and growth, emphasizing the mutuality in the relationship implied by the framework. Thus, for example:
Express Care can begin the conversation with a check-in and affirmation.
Challenge Growth can emphasize goals and expectations.
Provide Support can focus more on what the employee needs to be successful in their work.
Share Power can identify appropriate opportunities for voice and leadership; and
Expand Possibilities can explore growth and development.
They, and we, believe these conversations are inappropriate as performance measures, particularly since the framework has not yet been validated for those purposes. More importantly, changing the dynamic of those interactions from mutuality and coaching to accountability would have serious ramifications for the openness, trust, and quality of the process. But staff found the intentional, bidirectional structure to be refreshing when supervisors were willing and able to take the risks it involved.
Staff meetings—Several partners used the Developmental Relationships Framework in staff meetings. Toberman Neighborhood Center in San Bruno, California (our local partner with the National Center for Families Learning), focused its use of developmental relationships in its family programs. In addition, the community social service agency introduced the framework to all staff with a priority on creating a cohesive, relationship-rich culture among employees. Each staff meeting focused on an element of developmental relationships and how they could weave it into how they worked together, whether they worked in accounting or the thrift store.
Leadership accountability—City Year Columbus, Ohio, has infused developmental relationships throughout their culture with all staff, from those who work in the schools with students to those in the development office. This is part of their overall strategy to ensure that everything they do contributes to a culture of belonging for students, staff, and the AmeriCorps members.
"What has been rewarding about developing developmental relationships," says Tasha Booker Fowler of City Year Columbus, "has been getting to know our staff and our students more intentionally and not just to get to an end goal." In addition, it has created "authenticity in our relationship building" among staff and leaders as well as with teachers and administrators in their partner schools.
A "Totally Different" Person
What do all these activities and strategies lead to? We'll learn more over time as we build a broad and diverse base of evidence. For now, the stories of individuals point to the potential, including this example from Camp Fire Columbus:
"The person who I was before coming into this organization is totally different than the person I am today," one staff member recalled near the end of ROI. "A lot of it has to do with this focus on developmental relationships."
"I am a huge task-oriented person, so challenge growth has always come super easily to me." She would push through tasks to get things done, often becoming frustrated—and showing it—when others weren't as determined and focused as she was.
The opportunity to "reflect and look at these five elements and really dive into them and assess their importance has helped me build up skills in these other areas," particularly express care. Now, when a task isn't getting done and she starts to feel frustrated, "I seek out folks who are great at expressing care, and I ask for their feedback. . . . It helps me balance it out."
For her, two big changes had happened. First, she was self-aware of the balance in her relationships. Second—which was just as important—she knew she had colleagues she could turn to who would give her honest feedback without holding it against her. Both made her better as a person and as a staff member.
From Practice to Research
Serendipity is a vital part of research and learning. It's a vital reason to take time as an organization committed to research and practice to experiment and collaborate with partners who work with young people. Sometimes we assume that the sequence is always research to practice. In this case (and many others), it's practice to research.
The experiences with ROI partners laid a foundation for cultivating a relationship-rich culture among staff and volunteers that is consistent with the Developmental Relationships Framework. A strategic priority moving forward is to build an empirically supported framework to support adult-adult relationships in youth-serving organizations. Will it be like the Developmental Relationships Framework for youth? I would speculate that there would be significant overlap. I suspect we'll also learn some new things that will enrich our understanding of relationships overall.
And who knows? Perhaps in the midst of all that, we'll discover other innovative and high-impact ways the Developmental Relationships Framework can be applied. And the journey of discovery will continue.
* Here what these four common products started out to be, but weren't very successful in their original form:
Play-Doh—Wallpaper cleaner
Bubble Wrap—Wallpaper
Treadmill—Punishment for prisoners that also was used to grind grain
Post-It Notes—An adhesive that didn't really stick
Published Blogs in This Series
More insights from the Relationships for Outcomes Initiative
---
ROI Partners
These five youth-serving organizations partnered with Search Institute in Relationships for Outcomes (ROI). Each partner included a local "design site" where we collaboratively listened to youth, staff, and parents, prototyped and tested tools, gathered feedback, and collected data.